Microdermabrasion System at estetica Beauty Salon BOSTON
The safe and effective skin-resurfacing treatment
The Crystal Clear Skin System microdermabrasion technique performs a progressive rather than an aggressive treatment, and is Dermatologist and Dermatology approved.
From a simple beauty flash that instantly rejuvenates and lifts tired skin, to more in-depth treatments for lines, wrinkles, acne scarring, stretch marks and pigmentation problems – it does it all.
Microdermabrasion is a safe, controlled way to exfoliate skin and superficially peel the Stratum Corneum, reducing its thickness through mechanical abrasion of the dead skin cells.
A flow of crystals hit the skin's surface, and the speed and abrasiveness of these crystals gently removes the Epidermal cells layer by layer. Used crystals and dead skin cells are drawn away through the vacuum action, allowing for controlled exfoliation.
This gentle vacuum action also gives an immediate lifting effect on tired muscles and stimulates the blood supply to the skin's surface. This helps promote new Collagen and Elastin formation.
Specific attention is given to any areas of concern such as open pores, fine lines and wrinkles, blemished skin or acne scaring, resulting in dramatically rejuvenated skin.
Salon applications include:
A complete facial in less than 40 minutes

Perfect for ageing skin as it visibly reduces fine lines and wrinkles
Excellent results on acne scaring, pigmentation and sun damaged skin

It's highly effective in reducing the appearance of stretch marks and minimising the orange peel effect of cellulite

It's increasingly popular as part of luxury manicure and pedicure treatments
Crystal Clear Skin System – The proof
In independent clinical trials, Crystal Clear Skin System was conclusively proven to dramatically and visibly improve the texture and appearance of skin – reducing and smoothing fine lines and wrinkles and producing a smoother, more rejuvenated look and feel.

Crystal Clear Technology
Crystal Clear Skin System is more technically advanced than other microdermabrasion systems, and is manufactured in the UK to international standards.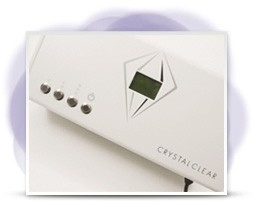 Benefits of Crystal Clear Skin System
This is the perfect salon treatment as it delivers instant, visible results. It's suitable for all skin types and colours and can be used to treat a range of skin problems on the face, hands and body.